I'm freakishly good with email. You can be, too.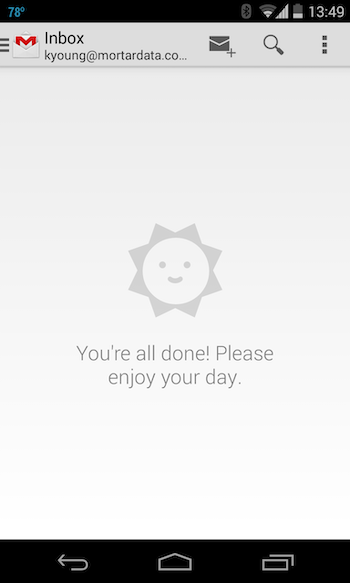 I haven't lost track of an email in three years. Since at Mortar I'm the CEO (Chief Email Officer), that gives me a huge advantage. But I wasn't always so good. In fact I was downright bad until I discovered one stupid trick: date-labels.
How it works#
Sometimes I look at my inbox and it has an email in it. So I do one of three things:
answer immediately
ignore forever
label the email with a date (which could be today if I plan to answer later)
I then remove the email from my inbox.
Here's what my labels looked like on June 24, 2014 (look at the left side-bar):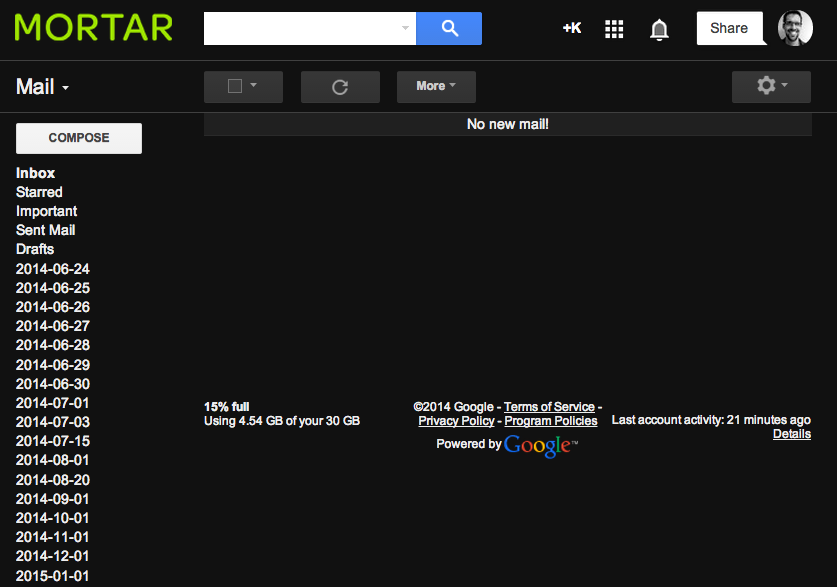 Yes, I have at least one email I'll act on in January 2015, all queued up for 6 months from now.
Ongoing usage#
When I come in to work in the morning, I open the label for today's date, and deal with every email in there, making the same choice as above: answer it now, ignore it forever, kick it down the road to a specific date.
When I initiate a conversation and I care that the other party responds, I'll send the email, then immediately go to 'Sent' and tag it with a date for follow-up.
That's it. With my inbox empty, my mind is free to spend energy on valuable problems.
Tips:#
To keep your date labels sorted properly and at the top of your sidebar, use the date format in the screenshot above: year-month-date (YYYY-MM-DD).
If you use gmail, use the shortcut 'v' to move an email out of your inbox and give it a tag.
At the end of the day when you retire today's tag, just edit it and roll it forward 10 days. That way you have a tag ready for most incoming emails.
I hope you find this post valuable. It was with some hesitation that I wrote it because now everyone will know that if I don't respond to an email… it's because I chose option 2.
PS. Some readers mentioned that they use Boomerang for a similar strategy. Boomerang never worked for me because is is pushy—it pushes emails whether I'm ready or not. Plus it puts email back into your inbox so things that you'll deal with later today get mixed with incoming messages and spam. Perhaps worst of all for me is that it hides important emails so completely that you can't easily preview, reschedule, or work ahead.
PPS. Apple + Gmail users: a reader pointed me to this post about using labels from your iPhone / iPad.